Google GKE Kubernetes - Masterclass ¶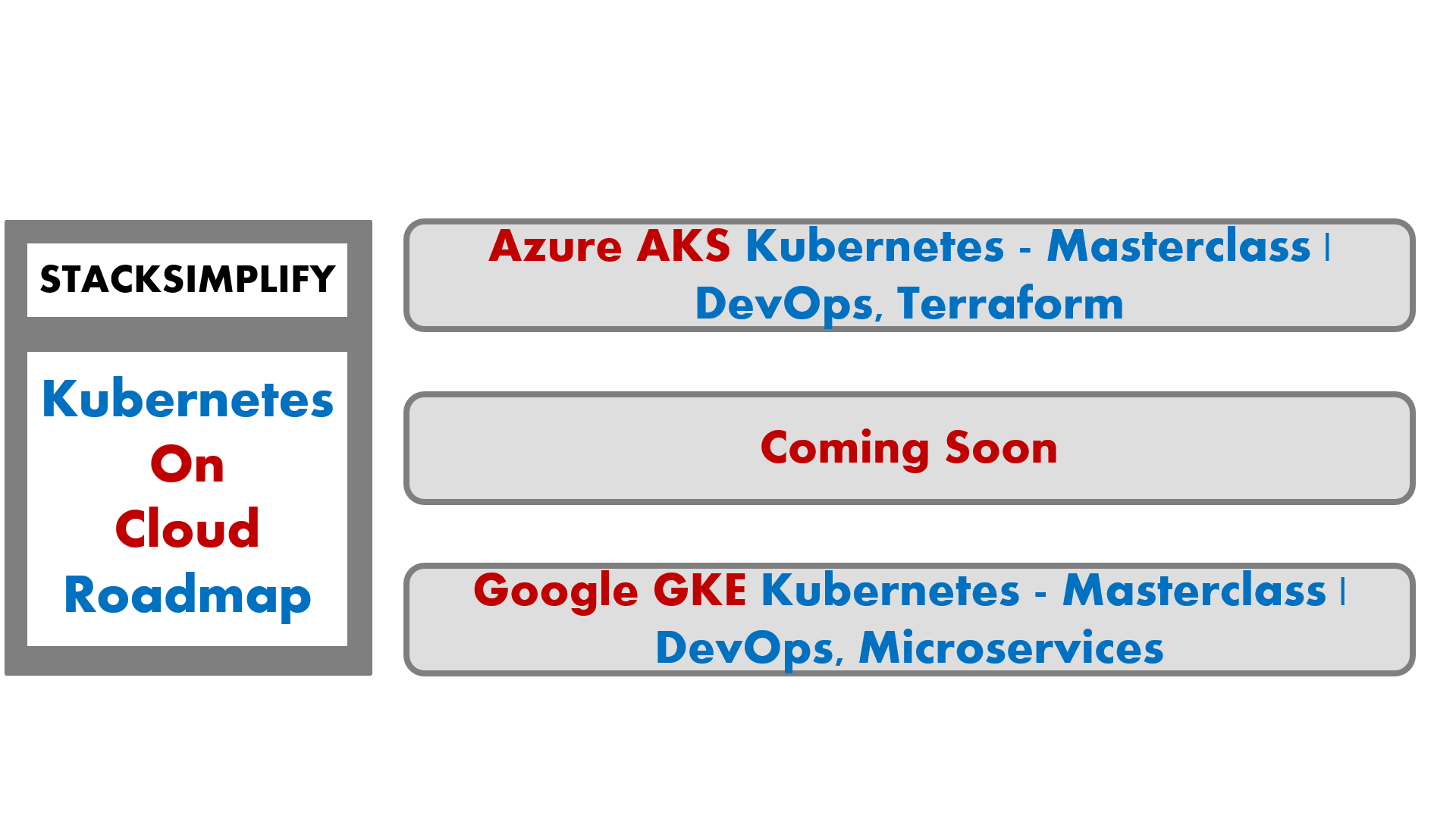 Kubernetes Concepts Covered ¶
| S.No | Kubernetes Concept Name |
| --- | --- |
| 1. | Kubernetes Architecture |
| 2. | Pods |
| 3. | ReplicaSets |
| 4. | Deployments |
| 5. | Services - Node Port Service |
| 6. | Services - Cluster IP Service |
| 7. | Services - External Name Service |
| 8. | Services - Ingress Service |
| 9. | Services - Ingress SSL & SSL Redirect |
| 10. | Services - Ingress & External DNS |
| 11. | Imperative - with kubectl |
| 12. | Declarative - Declarative with YAML |
| 13. | Secrets |
| 14. | Init Containers |
| 15. | Liveness & Readiness Probes |
| 16. | Requests & Limits |
| 17. | Namespaces - Imperative |
| 18. | Namespaces - Limit Range |
| 19. | Namespaces - Resource Quota |
| 20. | Storage Classes |
| 21. | Persistent Volumes |
| 22. | Persistent Volume Claims |
| 23. | Services - Load Balancers |
| 24. | Annotations |
| 25. | Canary Deployments |
| 26. | HPA - Horizontal Pod Autoscaler |
| 27. | VPA - Vertical Pod Autoscaler |
| 28. | CA - Cluster Autoscaler |
| 29. | DaemonSets |
| 30. | DaemonSets - Fluentd for logs |
| 31. | Config Maps |
List of Docker Images on Docker Hub ¶
| Application Name | Docker Image Name |
| --- | --- |
| Simple Nginx V1 | stacksimplify/kubenginx:1.0.0 |
| Spring Boot Hello World API | stacksimplify/kube-helloworld:1.0.0 |
| Simple Nginx V2 | stacksimplify/kubenginx:2.0.0 |
| Simple Nginx V3 | stacksimplify/kubenginx:3.0.0 |
| Simple Nginx V4 | stacksimplify/kubenginx:4.0.0 |
| Backend Application | stacksimplify/kube-helloworld:1.0.0 |
| Frontend Application | stacksimplify/kube-frontend-nginx:1.0.0 |
| Kube Nginx App1 | stacksimplify/kube-nginxapp1:1.0.0 |
| Kube Nginx App2 | stacksimplify/kube-nginxapp2:1.0.0 |
| Kube Nginx App2 | stacksimplify/kube-nginxapp2:1.0.0 |
| User Management Microservice with MySQLDB | stacksimplify/kube-usermanagement-microservice:1.0.0 |
| User Management Microservice with H2 DB | stacksimplify/kube-usermanagement-microservice:2.0.0-H2DB |
| User Management Microservice with MySQL DB and AWS X-Ray | stacksimplify/kube-usermanagement-microservice:3.0.0-AWS-XRay-MySQLDB |
| User Management Microservice with H2 DB and AWS X-Ray | stacksimplify/kube-usermanagement-microservice:4.0.0-AWS-XRay-H2DB |
| Notification Microservice V1 | stacksimplify/kube-notifications-microservice:1.0.0 |
| Notification Microservice V2 | stacksimplify/kube-notifications-microservice:2.0.0 |
| Notification Microservice V1 with AWS X-Ray | stacksimplify/kube-notifications-microservice:3.0.0-AWS-XRay |
| Notification Microservice V2 with AWS X-Ray | stacksimplify/kube-notifications-microservice:4.0.0-AWS-XRay |
List of Docker Images you build in AWS ECR ¶
| Application Name | Docker Image Name |
| --- | --- |
| AWS Elastic Container Registry | YOUR-AWS-ACCOUNT-ID.dkr.ecr.us-east-1.amazonaws.com/aws-ecr-kubenginx:DATETIME-REPOID |
| DevOps Usecase | YOUR-AWS-ACCOUNT-ID.dkr.ecr.us-east-1.amazonaws.com/eks-devops-nginx:DATETIME-REPOID |
Sample Applications ¶
User Management Microservice
Notification Miroservice
Nginx Applications
Are there any course requirements or prerequisites? ¶
You must have an AWS account to follow with me for hands-on activities.
You dont need to have any basic Docker or kubernetes knowledge to start this course.
Who are your target students? ¶
AWS Architects or Sysadmins or Developers who are planning to master Elastic Kubernetes Service (EKS) for running applications on Kubernetes
Any beginner who is interested in learning kubernetes on cloud using AWS EKS.
Any beginner who is interested in learning Kubernetes DevOps and Microservices deployments on Kubernetes
Each of my courses come with ¶
Amazing Hands-on Step By Step Learning Experiences
Real Implementation Experience
Friendly Support in the Q&A section
30 Day "No Questions Asked" Money Back Guarantee!
Best Selling Courses from StackSimplify ¶
StackSimplify Udemy Profile ¶
Free Courses ¶